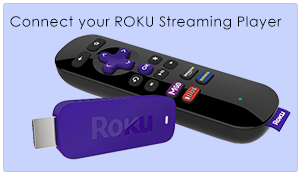 Connect Your Roku Streaming Player
Step #1: You must have a Roku Video Player with an active ROKU.com account. If you have not setup your Roku account, please set it up now; before going to the next Step.
Step #2: You must have an Active Badpuppy Subscription.
Step #3: On your PC, go to https://my.roku.com/add/video69. You will be taken to a Roku.com page where you will need to log in with your Roku account. Once logged into your Roku account, you will be asked to confirm that you desire to Connect Your Roku Device to the Private Badpuppy Channel.
Step #4: Now, take a look at your Television that is connected to your Roku device. The Badpuppy.TV logo should now be visible. Click on the Badpuppy.TV logo to start the Registration process. When you see the Registration screen, (on the remote) click OK. The next screen will provide you a "Link Code". On your PC, go to https://www.Badpuppy.TV/Roku/. Enter the "Link Code", your Badpuppy Username and Password. Within 30 seconds of you entering the "Link Code", you should see a Congratulations Screen on the TV. Clicking "start" will close out the Registration process.
Step #5: Click on the Badpuppy.TV logo again to start viewing the Badpuppy and ClubAmateurUSA movies.
NOTE – Be sure that you set your Screen Setting to either 720p HDTV or 1080p HDTV to be able to view the High Def movies. (The 720p HDTV and 1080p HDTV setting will work even on the older Analog TVs)
NOTICE, this is a Private Channel that is available using your television and Roku hardware. This channel is not available, nor supported through the Roku Channel Store.